In 2019, with the successful brand refresh completed, Medical Facilities of America (MFA) began looking for ways to capitalize further on the traditional advertising and print marketing Wallace360 had produced for its LifeWorks Rehab brand.
At Wallace360, we are continuously looking for and identifying ways to push our clients' brands further. Building on the general awareness efforts already in place, we wanted to drive direct leads to its 30+ centers across Virginia and North Carolina. We identified that their audience was actively searching online but that it was difficult for this older generation to find information specific to MFA's rehabilitation program. MFA's range of rehabilitation centers across Virginia and North Carolina had no consistent way to gather leads or direct potential patients to their nearest location, meaning the right people were not getting the right information at the right time.
To help, we needed to:
Promote the LifeWorks Rehab brand in a way that tied into actively running TV spots promoting the rehab program, but didn't take away from promoting individual centers across the state
Make it easy to open a line of communication between centers and potential patients and their families
Abide by regulations that govern the promotion of medical services
Make it easy and accessible for a largely older audience to understand and navigate through the information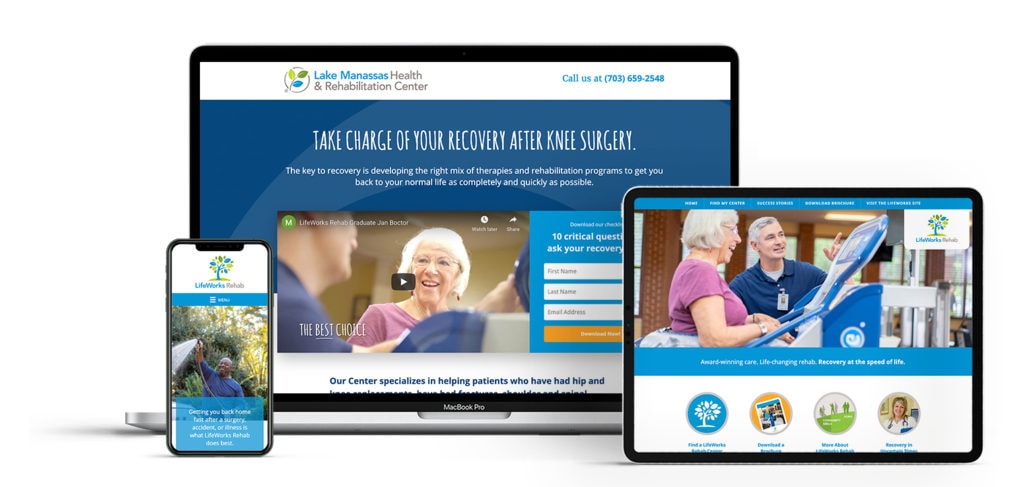 Automating Customized Lead Generation
We knew the user experience extends beyond just MFA's websites, and it's important to consider the role of the site in the context of a site visitor's total journey. Identifying how they get there, how to deliver the most relevant information that addresses real pain points and how to keep the lines of communication open after they leave the site, allowed us to turn website visits into hundreds of actionable phone calls between their centers and potential patients.
Wallace360 created a system that requires minimal maintenance and automated as much as possible, which was key to maximizing the budget over the long-term. Specifically we:
Developed MyLifeWorksRehab.com as well as a series of center-specific landing pages served to visitors based on their geographic location and potential rehab needs
Ran targeted search and display ads to ensure sites were delivered to the right people at the right time, optimizing the use of advertising budgets and consistently driving down cost-per-lead
Developed a robust system on WordPress that allows for bulk changes to multiple pages, reducing maintenance time and ensuring accuracy of information across multiple centers
Created a hyper-targeted email automation campaign that delivers information about benefits and resources over the course of multiple weeks and drives phone calls to centers from people who may not have been ready to speak with a center when they first visited the website
Consistently generated over 350 calls to local centers per month with year-over-year cost per click, cost per conversion, and return on ad spend improvements